Say Já! Yes! Vínarterta!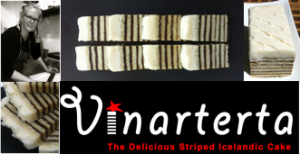 Vínarterta is made this holiday season with our own handmade vanilla using Icelandic Reyka Vodka (filtered through lava rock) infused with Organic Madagascar Vanilla Beans. There are 2 oz of vanilla in every large cake!
Vínarterta Sizes and Prices
Lítil – Small .5 kg – 4-6 Servings $12
Mið – Medium – Quarter Cake 1.25 kg – 10-15 Servings $30
Hálf – Half Cake 2.5 kg – 20-30 Servings (Traditional Xmas Cake Size) $57.50
Stór – Large 5 kg (40-60 Servings) $115
Special Orders:
Let us know and we'll customize an order for you!
A very special gift tag is included for gifts. Please let us know what you would like the message to say. The tag is from Hringurinn (The Circle); a non-profit organization originally founded in 1904 to aid those suffering with tuberculosis. Today they raise money for the children's hospital in Reykjavík.
Tax included. Delivery extra. Next day delivery to Toronto/GTA. 2-5 Days rest of Canada.
ORDER VÍNARTERTA IN TIME FOR THE HOLIDAYS!
www.vinarterta.ca or email Arden directly: order@vinarterta.ca