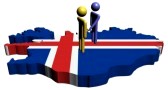 If you´re planning a trip to Iceland, the ICCT has several suggestions on where to stay, how to get around, what to bring, who to meet, places to visit, things to do and much more.
Likewise, we offer recommendations for Icelanders coming to Toronto. Don't hesitate to contact us. The ICCT welcomes you.
For a list of postings related to TRAVEL check out our travel archives.