May 7, Nordic Film Nights – Either Way (Á Annan Veg)

NORDIC NIGHTS & THE SCHOOL OF IMAGE ARTS AT RYERSON UNIVERSITY PRESENT: Either Way (Á ANNAN VEG)
Date: Tuesday MAY 7
Doors open: at 6:30, Movie at 7 pm
Location: Rogers Communications Centre
80 Gould Street (corner of Gould and Church) RCC-204 (Eaton Lecture Theatre, second floor) wheelchair-accessible external entrance, elevator. Here is the link to the map.
Suggested donation: $5.00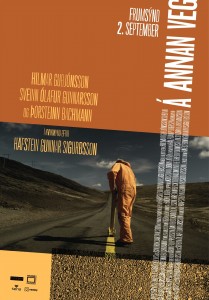 Preceded by a Ryerson student short on Iceland from the school of Image Arts, filmed in Iceland during their workshop there in June.
Either Way
In the remote north of Iceland in the 1980s, Finnbogi and Alfred spend the summer painting lines on the winding roads that stretch out to the horizon. Soon the barren wilderness becomes a place of adventure, disaster and discovery as both men find themselves at crossroads in their lives. Either Way is a subtle and playful dramatic comedy.
About the film
Type: Feature Film
National Premiere Date: September 2, 2011
Genre: Drama, Comedy
Length: 84 min.
Language: Icelandic with English subtitles
Click here for the Either Way (Á Annan Veg) trailer.