Iceland band BLOODGROUP performed for Canada Music Week in Toronto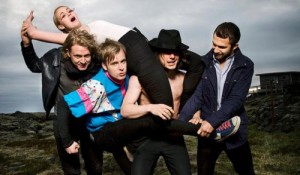 It feels like yesterday when Bloodgroup – seemingly out of nowhere – hit the ground running, crashed the Icelandic music scene with their highly infectious debut Sticky Situation, became an over-night sensation and a concert favorite that crossed over sub-genres and crowds without skipping a beat, took the ball, ran with it all over Europe (be it club or major festival appearances) with short trips to the US and Canada as well, took on legions of followers, returned home, made a career defining 2nd album Dry Land, garnered critical acclaim, won music awards, went back on the road, did it all over again and now they are returning to Toronto to play at Rancho Relaxo, Thursday March 10 as apart of this year's Canadian Music Fest. This was the longest intro sentence I've ever made, going by like a freight train. But that's exactly the Bloodgroup saga has been like, up to this point.
I got in touch with the band recently to talk about their upcoming performances in Toronto after which they'll find themselves in Austin, TX playing the SXSW. We also touched on line-up and style changes and other things creeped into the conversation.
Your first album was full of up-beat, high-energy tracks. Dry Land on the other hand shows the band in more weighty and moody realms, merely hinted at in couple of songs on the debut. What are the reasons for this development?
– We all used to be in rock bands, and funk, metal, reggae bands etc. and we kind of got bored with guitars and drum kits and stuff. So we just bought tons of synthesizers, samplers, drum machines and stuff and started experimenting (this was before the economy crisis!). Our first album is a collection of songs and ideas that we made when we were still figuring out how to use all our new toys. When we made Dry Land we had a lot more experience in the studio and set out to make an album that would have a more specific atmosphere and it's own defined soundscape. Video: Bloodgroup – My Arms (via kexpradio)
How do you balance this difference in your live-sets, assuming you are still playing songs from the debut and how does that compare to your live performances back when you only played the songs of Sticky Situation?
– We changed the old songs in a subtle way to have them blend better in with our new stuff. It seems like it's working really well, some of them sound a lot better live than on the album. Our old live set was all about getting the crowd jumping from the first song onwards and we tried to have the crowd not touch the floor too much throughout the whole set! Nowadays we like to think of our live set like experiencing a good novel, it has highs and lows but it usually ends with a lot of screaming. Music video: Bloodgroup – Hips Again
Your original lead-singer, front woman Lilja, quit the band after having her first child. She's been replaced by Sunna to fill her big shoes.
– Like we say in Iceland 'Enginn fer í Kaupfélagið nema eitthvað vanti'. Lilja's parting from the band was something she had been pondering for some time, and it was also because she wanted to focus more on her studies. Of course it felt a bit weird at first, and it was hard to find someone to fill her gigantic shoes, but we just baptized our new singer, Sunna by fire on a six week Europe tour and she's a real tiger.
In Europe and the UK you've vigorously played key music festivals and show cases, and toured extensively. What are the fruits of this diligent groundwork?
– Yes, we do have some deals on the table right now that will come to light in the next few weeks.
What's the band's history with N-America and Canada especially, so far?
– We've been to N-America a few times, mostly NYC, we've played SXSW and we did NXNE in Toronto 2 years ago. Music video: Bloodgroup – Overload (via recordrecordsiceland)
What are you expecting from this Canada trip and what's your impression of the country and the Canadian Music Fest? Which artists will you definitely be seeing?
– We had a blast last time we were there so we're very happy about coming to Canada again. It felt like some kind of cross between USA and Europe, with the best from both! Two band we'll definitely be seeing are Yunioshi and Spaceships Are Cool.
What can the crowd expect from your show at Rancho Relaxo and are you familiar with any of the bands playing with you? Why on earth should we come see you guys?
– The crowd can expect their best CMF experience ever. Personally I haven't really heard of the other bands, but we're always excited to see something new. You should come see us because you'll fall in love.
Bloodgroup @ Canadian Music Festival Facebook Myspace Twitter Youtube
– BK
Source: exclaimblog