Fresh Icelandic River Roast Christmas Coffee (Jóla Kaffi) for 2011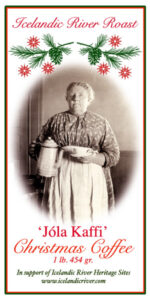 Last year's Christmas Coffee was a big hit, so Icelandic River Heritage Sites (www.icelandicriver.com) is offering a fresh new batch of Icelandic River Roast 'Jóla Kaffi' again this year – along with our four other blends: 
Tíu Dropar (our signature medium roast)
Fjallkona (delicious medium-light roast)
Nýja Ísland (rich medium-dark roast),
and our very popular classic dark roast:
Earl of Dufferin, which has been a big hit with those who love a rich and tangy dark roast.  
Both the darker roasts make excellent espresso.
The sale of Icelandic River Roast coffee beans is a fundraiser in support of projects undertaken by Icelandic River Heritage Sites Inc., a registered charity dedicated to preserving and promoting historic sites, buildings, and place names, as well as initiating and hosting cultural events. An overview of our projects can be found on our website:  http://www.icelandicriver.com.  

We are pleased to report that in additional to stabilizing the historic 110 year old pioneer home at 
Engimýri
 with a new roof (cedar shingles) as a first step in restoration, 
we have commissioned an 18 inch sculpture of founder and pioneer Sigtryggur Jónasson, best known as "Father of New Iceland" – also as "Father of Icelandic Settlement in Canada".
The achievements of this remarkable pioneer are many and he has recently been designated "a person of national historic significance".  A limited edition of these miniature bronze sculptures 
will be offered in the new year, and a 7 foot bronze statue is now also being crafted for a planned unveiling in the fall of 2012.  Besides these major undertakings, our group of volunteers has 
tended the historic Nes Cemetery, the former site of poet Guttormur J. Guttormsson's home at Víðivellir, and the grounds at Engimýri, keeping the grass cut and doing extensive clean-up in 
preparation for on-going improvements…  All our work is done by volunteers.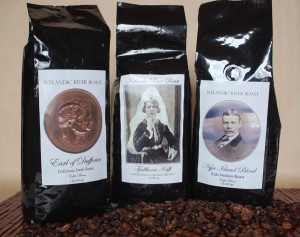 If you are interested in Christmas Coffee (as a gift or for yourself) and would like to support these efforts, please contact us via this email address.  We ship all over North America and offer deals on bulk orders of 12 lbs. or more – depending on location.  Our coffee beans
are custom roasted and blended for us in keeping with the long tradition of Icelandic coffee preparation and shipped fresh in 1 lb. (454 gr) bags. – each with a unique Icelandic River Roast label.
Thank you for your interest and past support.
Email: eyrarbakki@hotmail.com  Phone: 204 378 2758

Posted in News.