Thank you to all our VOLUNTEERS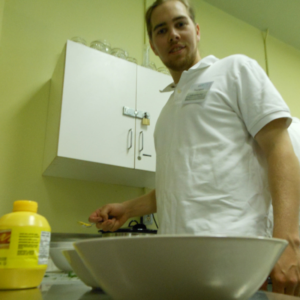 Thorrablot is a big group effort. We have so many people to thank. Please forgive us if we left anyone out.
Icelandic Canadian Buffet – Kalt Borð
Hangikjöt: (Smoked Lamb) and Smoked Trout: Tip Top, Gimli, Manitoba
Rullapylsa: Arden Jackson
Icelandic Brown Bread: Gwen and Neal Noble, Goody's Diner
Gravlax: Jón Thordarson
Poached Salmon, Roast Lamb, Turkey, Salads & Buns: Ulle Veltmann, Esto House Café
(photo by Michael Smith)
Dessert – Eftirréttur
Cakes, Squares, Cookies: Meredith MacFarquhar, Jim & Irene Gibson, Patricia Johnson, John
Gudmundson, Holly Wirth, Lynne Thorkelsson, Ellen Gilmore, Arden Jackson
Fruit Platter: Fran Moscall, Lynn Friesen, Angie Bjornson
Kleinur: Meredith MacFarquhar , Margrét Björgvinsdóttir, Margaret Van Hamme
Mysuostur: Phyllis Pollard
Pönnukökur: Ragnheidur Hlundsdottir, Margret Bjorgvinsdóttir, Maja Sullivan
Skyr: Gail Einarson-McCleery
Sætsúpa: Don Gislason
Vínarterta: Arden Jackson
Viking Challenges – Súrmatur og ?
Hákarl, Harðfiskur, Hrutspungur, Lifrapylsa, Blaudpylsa, Flatkaka: Karen Wallington
Svíd: Phyllis Pollard, Arden Jackson
Ölvisholt Brugghús Skjalfti Beer: Fitumi Trading Company
Thanks to all the contributors and volunteers who made this celebration possible. 
Program – Heather Prinsloo: President ICCT
MCs – Heather Prinsloo: President ICCT, Karen Wallington: Vice President ICCT
Registration – Lynne Thorkelsson: Treasurer, ICCT, Holly Wirth: Director ICCT
Silent Auction – Phyllis Pollard: Director, ICCT, Frank and Catherine Hough, Cathy Broughton, Fran Moscall,
Caprice Boisvert
Bar – Brian Eyolfson: Past President ICCT, David Hansen: Bar Tender, Sean Anderson, Sigrun Stella Bessason,
Gudrun Olafsdottir
Photo Booth – Heather Prinsloo, Kara Schuster: Past President, ICCT, Linda Schuster, Jessica Guenther
Kolaport Market – Thora Smaller: Merchandising ICCT, Frank, Catherine and Amanda Hough, Erin Green
Children's Games Area – Heather Prinsloo, Erin Abe
Viking Challenge – Angie Bjornson, Sunneva Bernhardsdottir: Icelandic Teacher ICCT
Dining Room Team – Meredith MacFarquhar: Thorrablot Coordinator ICCT, Hal Frederickson
Ross O´Connor, Hart Jackson Snow, Brynjar Björgvin Chapman, Izak Hattori-Casti, Philip Garde,
Roger Friesen, Erik Abe
Food and Kitchen Team – Arden Jackson: Thorrablot Director ICCT, Stefan and David Jackson Snow
Brenda Johnson, Lucie Jabour, Madelaine Zammit, Natalie Wirth, Lori Abe
Bag Pipes – Kaj Sullivan