Iceland Language Class – Fall Schedule Now Available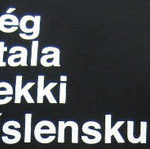 The ICCT offers weekly language classes held on Monday nights for 8 weeks.
COST:
$65 for ICCT members
$75 non-members
CONFIRMED FALL SCHEDULE:
October 3
***NO CLASS Thanksgiving Monday October 10***
October 17
October 24
October 31
November 7
November 14
November 21
November 28
Edda Kristinsson is teaching the beginner class.
Andri Elvar is teaching the advance class.
Note: Classes are hosted at an ICCT member's private home. Each class is 2 hours long starting promptly at 7:30pm and include a 20 min coffee/tea break. Light refreshments such as cookies or fruit are kindly asked to be brought by a different student each week.
For more information email contact@icct.info
Posted in Events.