2011 Thank You
THANK YOU! from the Þorrablót 2011 Team!
On Saturday April 9, 2011 at the Estonian Club of Toronto over 200 people attended our annual event!
The fun and the fundraising tally are at all time high! This is your 'post Thorri' UPDATE. If you didn't attend here's your invitation to next year!
With typical Icelandic-Canadian and Icelandic flair, the crowd enjoyed some usual and not so usual Icelandic experiences. The bizarre Hákarl (Shark), Hrútspungar (Ram's Testicles)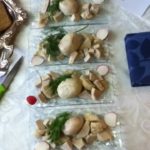 and Svíd (Lamb's Head)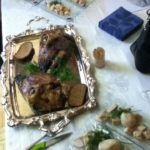 were presented and eaten by 33 adventurous guests in the 'Viking Challenges'! The children enlivened the stage with 'Freya's Fling' ball challenge. The Hangikjöt, Rullapylsa, Lifrapylsa, Hardfisk, Gravlax, Flatkaka, Kaefa, Ponnukokur, Vinarterta, Kleinur, Saetsupa, Skyr, Mysuostur were in abundance and rounded out with fragrant Roast Lamb, Poached Salmon, Turkey, Salads, Fresh Breads, Cookie and Dainties! The Icelandic Beer sold out early. The Silent and Secret Auction was overflowing and record breaking in return. Auction MC Dave extended the night by declaring a temporary time change to Standard Time. The Evening Program MC's Heather and Karen were engaging and charming. The live piano music created a beautiful background to the friends and family chatter and laughter. We had a great time!
Thank you to the following for their hours of work and dedication to this successful event: (Apologies for omissions):
Program: Heather Prinsloo, Karen Wallington, Registration: Lynne Thorkelsson, Holly Wirth, Silent Auction: Phyllis Pollard, Cathy Broughton Marshall, Nancy Morgan, Kara Schuster, Dave Lyon, Kitchen Team: Arden Jackson, Hart & David Jackson Snow, Lucie Jabour, Jill Tomasson-Goodwin, Dave Lyon, Lynn Friesen, Dining Room Team: Meredith MacFarquhar, Ross O´Connor Tennant, Stefan Jackson Snow, Hal Frederickson, Brynjar Björgvin Chapman, Izak Hattori-Casti, Paul Goodwin, Philip Garde, Raina Stebelsky, Bar: Brian Eyolfson, David Hansen, Sean Anderson, Bill Hurst, Jon Thordarson, Linda Wallington, Frank Hough, Others: Derek Prinsloo, David Goodwin, Brittany Flamank
Food Contributors: Phyllis and Heather Pollard, Coleen Sigmundson, Hildegarde & Thorsteinn Helf, Karen Wallington, Jón Thordarson, Brian Eyolfson, Jim & Irene Gibson (LOTS OF FOOD), Linda Strömberg, Reynir Sæmundsson, Margret Jackson, David and Hart Jackson Snow, Angie Bjornson, Holly Wirth, Lynne Thorkelson, Fran Moscall, Heather Prinsloo, Jennica and Ellen Gilmore, Margret Bjðrgvinsdóttir, Meredith MacFarquhar, Margaret Van Hamme, Betty Jane Wylie, Sigrun Stella Bessason, Don Gislason, Jody Amy, Gail Einarson-McCleery, Hangikjöt: (Smoked) and Fresh Lamb: Forsyth Farms (Wiarton), Poached Salmon, Roast Lamb, Turkey, Salads & Bread: Ulle Veltmann, Estonian House Café
Silent Auction Donors:
Brian Eyolfson, Fran Moscall, Stella Hansen, Phyllis Pollard, Dr. W. Goodman, Angela & Mel Johnson, Gail Einarson-McCleery,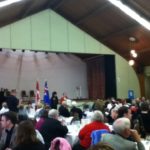 Kara Schuster, Don Gislason, Brenda Bjarnason, Cathy Broughton & Joe Marshall, Margaret Vautour, Nancy Ann Morgan, Betty Jane Wylie, Holly Wirth, Mona Spencer, Karen Wallington, Erin Green, Edda Kristinsson, Meredith MacFarquhar, Rita Hiorth, Lynne Thorkelsson, Irene and Jim Gibson, Icelandair, Icelandic Summer School, Nordic Trails Tours, Ontario Science Centre, Passe Muraille Theatre, Sean Anderson Landscape Design, Goods by Brendan, Parkview Neighbourhood Garden, Royal Ontario Museum, System Fitness, Yellow Dog Music, Knot Just Dreads, Chantry Breezes B&B, Romni Wool, The McMichael Canadian Art Collection, Art Gallery of Ontario and Don Gislason, Logberg Heimskringla, Icelandic Connection, National Ballet of Canada