2012 Thank You
Takk fyrir komuna og takk fyrir okkur
Our thanks to all the contributors and volunteers who made the 2012 Thorrablot celebration possible!
Buffet table, kitchen volunteer, chocolate cake and Viking platter taken by Michael Smith.
Program – Heather Prinsloo: President ICCT
MCs – Heather Prinsloo: President ICCT, Karen Wallington: Vice President ICCT
Registration – Lynne Thorkelsson: Treasurer, ICCT, Holly Wirth: Director ICCT
Silent Auction – Phyllis Pollard: Director, ICCT, Frank and Catherine Hough, Cathy Broughton, Fran Moscall,
Caprice Boisvert
Bar – Brian Eyolfson: Past President ICCT, David Hansen: Bar Tender, Sean Anderson, Sigrun Stella Bessason,
Gudrun Olafsdottir
Photo Booth – Heather Prinsloo, Kara Schuster: Past President, ICCT, Linda Schuster, Jessica Guenther
Kolaport Market – Thora Smaller: Merchandising ICCT, Frank, Catherine and Amanda Hough, Erin Green
Children's Games Area – Heather Prinsloo, Erin Abe
Viking Challenge – Angie Bjornson, Sunneva Bernhardsdottir: Icelandic Teacher ICCT
Dining Room Team – Meredith MacFarquhar: Thorrablot Coordinator ICCT, Hal Frederickson
Ross O´Connor, Hart Jackson Snow, Brynjar Björgvin Chapman, Izak Hattori-Casti, Philip Garde,
Roger Friesen, Erik Abe
Food and Kitchen Team – Arden Jackson: Thorrablot Director ICCT, Stefan and David Jackson Snow
Brenda Johnson, Lucie Jabour, Madelaine Zammit, Natalie Wirth, Lori Abe
Bag Pipes – Kaj Sullivan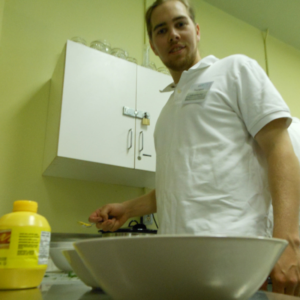 Icelandic Canadian Buffet – Kalt Borð
Hangikjöt: (Smoked Lamb) and Smoked Trout: Tip Top, Gimli, Manitoba
Rullapylsa: Arden Jackson
Icelandic Brown Bread: Gwen and Neal Noble, Goody's Diner
Gravlax: Jón Thordarson
Poached Salmon, Roast Lamb, Turkey, Salads & Buns: Ulle Veltmann, Esto House Café
Dessert – Eftirréttur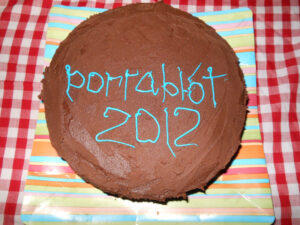 Cakes, Squares, Cookies: Meredith MacFarquhar, Jim & Irene Gibson, Patricia Johnson, John
Gudmundson, Holly Wirth, Lynne Thorkelsson, Ellen Gilmore, Arden Jackson
Fruit Platter: Fran Moscall, Lynn Friesen, Angie Bjornson
Kleinur: Meredith MacFarquhar , Margrét Björgvinsdóttir, Margaret Van Hamme
Mysuostur: Phyllis Pollard
Pönnukökur: Ragnheidur Hlundsdottir, Margret Bjorgvinsdóttir, Maja Sullivan
Skyr: Gail Einarson-McCleery
Sætsúpa: Don Gislason
Vínarterta: Arden Jackson
Viking Challenges – Súrmatur og ?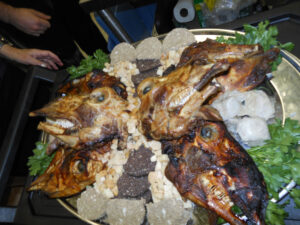 Hákarl, Harðfiskur, Hrutspungur, Lifrapylsa, Blaudpylsa, Flatkaka: Karen Wallington
Svíd: Phyllis Pollard, Arden Jackson
Ölvisholt Brugghús Skjalfti Beer: Fitumi Trading Company
To View MORE pictures from last night´s Thorrablot AND to add your own, please visit our Facebook page: www.facebook.com/ICCTpage
We´d love to hear your comments and stories!
---
Icelandic Brown Bread provided by Gwen and Neal Noble of Goody's Diner.
Fitumi Trading Co (@fitumitradingco on Twitter) is a Toronto based importing company that specializes in Icelandic beer.
Here are just some fun hi-lights from our event.
Huge thanks to Kara Schuster for taking such great photos!  www.karaschuster.com