Thorrablot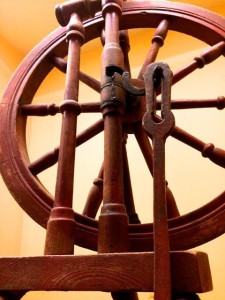 THORRABLOT 2015  Sagnaspuni og gleðistundir!
SAVE THE DATE! Saturday April 11, 2015
The event is at the Estonian House 958 Broadview Avenue, Toronto
Appetizers/Cash Bar @ 6:00 pm         Dinner @ 7:30 pm        Free parking
There is an ancient Icelandic custom that ensures abundance in all things and that is ritual sharing of great food and friendship during Thorri. For over thirty years in Toronto the gathering has grown and continues to expand in greater and greater appreciation and enthusiasm for Icelandicness and the power of community.
Thank you to the more than 45 team members and 1500 hours dedicated to our Thorrablot! Our goal is to sponsor Academic Scholarships for Youth, Snorri Grant and Icelandic Camp Award Winners!
AND… to fill our guests with memoried Icelandic, Icelandic Canadian and traditional Thorrablot Food and Fun Experiences!
We can't wait for you to join us! The Thorrablot Team welcomes Vikings from Vinland, Musical Performances with Lindy Vopnfjord, Live Auctioneer Linda Lundström.
_____________________________
_____________________________
Early Dragon Tickets (Deadline February 9, 2015)
Adult 18+      Youth 12 to 17      Children 2 to 11
Member: Adult $45, Youth $20, Children $15 (Pay a flat rate of $30 for immediate families with more than 2 Children)
Non Member: Adult $50, Youth $25, Children $20 (No Maximum for Non Members)
______________________________
Tickets (Deadline April 6, 2015)
Member: Adult $50, Youth $25, Children $20 (Pay a flat rate of $30 for immediate families with more than 2 Children)
Non Member: Adult $55, Youth $30, Children $25 (No Maximum for Non Members)
We Sold Out Early Last Year – Last Chance Tickets (If Availability after April 6)
Adult $75, Youth $50, Children $30 (No maximum)
For additional ticket inquiries contact Lynne treasurer@icct.info  (To pay by cheque please download the order form at the bottom of the page)
______________________________
"In true Icelandic Canadian spirit we have created a fun and food filled event with abundant gastronomic delights, song, treasures, laughter and happy stories to tell again and again."
This year's Thorrablot will feature:
Icelandic Lamb & other Thorramatur
(traditional foods served exclusively at Thorrablot) imported direct from Iceland!
Vikings from Vinland
Our treasured friends from L'Anse aux Meadows will return, all dressed, gnarly, and hungry for burnt heads and mead, and abundantly adorned with swords, spindle whorls and yarn telling rich with history.
Silent and Live Auction Featuring Linda Lundström
The iconic, Award Winning Canadian Fashion Designer from Red Lake, Ontario connects powerfully with any audience. Linda's first passion is design however, her unique personal style, honesty and comic timing is a joy to experience. Her latest line of products embrace the natural, raw edges of luxury leather and fur and are filled with story.
Musical Performances Featuring Lindy Vopnfjörð
A tall man who tells tall tales of lost lands swirled by stormy seas and salty lands. Lindy grew up on the icy shores of Lake Winnipeg. By the age of four he was singing at Íslendingadagurinn with his family. He toured twice to Iceland last year and performed at Iceland Airwaves music festival. Recently his sagas and songs focus on the bright side of 'elfin life'.
Supervised Children's Area
Scholarship and Grant Presentations
We are accepting donations for our silent and live auctions. For more information visit: http://www.icct.info/auctions
To make a donation, contact Phyllis & Cathy silentauction@icct.info
For general inquiries or to volunteer: Arden Jackson thorrablot@icct.info
or Karen Helena contact@icct.info
There is nothing as good as a get together with good friends!
Hvað er svo glatt sem góðra vina fundur!
–  "Vísur Íslendinga" by Jónas Hallgrímsson
Arden Jackson
Thorrablot Director
thorrablot@icct.info
CVO (Chief Vinarterta Officer), http://vinarterta.ca
Featured Chef, Westward Viking Festival, Newfoundland
http://www.pc.gc.ca/eng/lhn-nhs/nl/meadows/ne.aspx