Don't miss the most anticipated ICCT event of the year!
Thorrablot 2014 presents:
A Taste of Vinland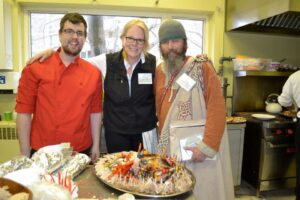 Eat, drink and be happy! Et, drekk og ver glaðr!
Saturday April 12, 2014
Estonian Club of Toronto
958 Broadview Avenue, Toronto.
Cash Bar @ 6.00 pm     Dinner @ 7.00 pm      Free parking!
EARLY 'Dragon' SPECIAL – RECEIVED BY March 10, 2014
Member Adult  - $45,  Youth Under 18 –  $20,   Child under 12 – $10, Maximum $30 per family for their own children under 12. Child 2 and under free.
Non Member Adult  - $50,  Youth Under 18 – $25, Child under 12 – $12, Maximum $36 per family for their own children under 12. Child 2 and under free.
Click here to buy your tickets!
DELICIOUS FOOD,  MUSIC, AUCTIONS (with Linda Lundstrom, Inspirational Canadian Fashion Icon) and the RETURN of  VIKING HALFRED all the way from L'Anse Aux Meadows Newfoundland! 
Eat and enjoy the traditional foods of Iceland:
Hákarl – Rotted Shark
Harðfiskur – Wind Dried Fish
Hrutspungur – Soured in Whey Ram's Testicles
Lifrapylsa – Liver Sausage
Blaudpylsa – Blood Sausage

For Decoration – Svið – Boiled Sheep's Head
Icelandic Canadian Buffet – Kalt Borð
Hangikjöt: (Smoked Lamb)
Roast Lamb
Rullapylsa (Rolled, Spiced Lamb Flank)
Icelandic Brown Bread
Gravlax (Cured Salmon)
Poached Salmon
Smoked Trout
Roast Turkey
Salads
Mashed Turnip
Vegetarian Dishes
Dessert – Eftirréttur
Vínarterta (Layered Cardamom Flavoured Plum and Shortbread Cake)
Kleinur (Twisted donuts)
Mysuostur (Carmelized Whey Cheese)
Pönnukökur (Thin Pancakes filled with Jam and Whipped Cream or rolled with sugar)
Skyr (Icelandic Yogurt with Cream and Berries)
Sætsúpa (Warm Fruit Soup)
Cakes, Squares, Cookies,
Fruit and Cheese
And most importantly…..the Thorri team is gathering, readying and preparing to plan and serve up a night full of fun and about which many sagas will be told!
Please join our Thorrablot 2014 'Taste of Vinland' team. We still require volunteers and dessert donations. Please contact Arden at thorrablot@icct.info.
Do you have something unique to donate to our live or silent auction? All donations are appreciated. Contact silentauction@icct.info
Buy your tickets now! Put the date Saturday, April 12 2014 in your calendar for our great FOOD, FRIENDS and FAMILY EVENT!