Travel (to Iceland) Show Tripled Attendance!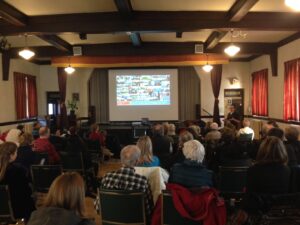 Congratulations to the hard work and efforts of Gail Einarson-McCleery for hosting yet another successful Travel Show. We had an unprecedented number of attendees… maybe 80!
Thank you to our presenters: Kathleen Murray who spoke about her visit to Vestmannaeyjar (Westman islands), Peter Norman who focused on the hi-lights of traveling to Iceland with his family and Joan Christensen who shared her stories and adventures on the Snorri Plus program.
Additional thanks to Hal and Lucie Fredrikson, Kathy Hanneson and Lynne Thorkelsson for all your help.
We received wonderful feedback from all the attendees, many of which have their own plans to visit Iceland later this year. To them we say goða fer (have a good trip), have lots of adventures and hopefully we'll hear all about them next year!