Ezine for Teens Launched with ICCT Scholarship Recipient David Snow on the Lead Team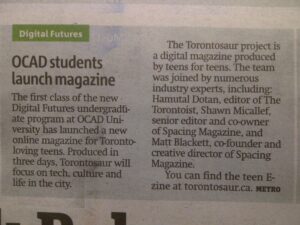 David Jackson Snow, recipient of an ICCT Scholarship in 2012 is making his mark in a new degree program at OCAD University. Called Digital Futures, the program integrates Design, Technology, Art and Innovation, and is leading the pack in multi-disciplinary programs responsive to changing ways that we live and work. One of less than 30 students accepted into the first year of the new program, David is finding it a wonderful fit for him in terms of making use of his personal skills, talents and passions. Named as a managing editor, he has been recognized as a natural leader for a new Ezine for Teens. Students were challenged with industry support to create the new online magazine they call 'Torontosaur' in three days. Launched on November 8th, here's more about it….
Article: The story of Torontosaur: 30 Sleepless Teenagers. 3 Days. Toronto's Hot New E-Zine Is Born on November 8th, 2012
http://www.torontosaur.ca/  https://www.facebook.com/Torontosaur
Back ground on Digital Future program:
http://metronews.ca/news/190006/ocadu-turns-its-eyes-toward-a-digital-future/
http://www.ocadu.ca/programs/digital_futures_initiative.htm
Attached: Article from Metro newspaper Nov 14, 2012.
Posted in Literature, News, Youth.