2017 INL Convention Registration Open + Youth Registration Award
"Connecting the Pieces" 2017
Icelandic National League of North America Convention
in North Dakota May 4-7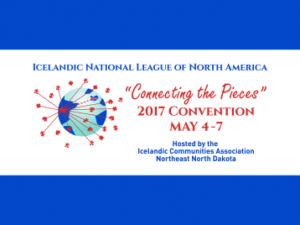 May 4-7, 2017 we will gather for a very fun and interesting weekend with our Icelandic friends and cousins to celebrate our Icelandic Heritage and Culture. Come on our Adventure Tour, Visit with others excited about our Icelandic heritage. 
REGISTRATION INSTRUCTIONS:
Once on the event page, choose event – Icelandic National League of North America.
Enter username Iceland and password North Dakota. (people in Iceland — as soon as Jolene is back from her wedding, she will make a link for your registration process.)
Mobile Users: Click on the link above. From the Mobile Site, Scroll down to the bottom. Click on 'Full Site'. Go back to original link to register and click it again to register.
More Convention Details can be found here.
CONVENTION  REGISTRATION  AWARDS
(maximum of 4 awarded each year)
INLNA now offers to pay the convention registration fee for up to 4 young persons (aged 18-28)
who are interested in further exploring their Icelandic heritage by experiencing the excitement and
fun of an Icelandic National League of North America (INLNA) convention.
To be considered for one of these Awards the applicant should submit a 1 page letter indicating:
– full name
– date of birth
– contact information  (mailing address, email, phone number)
– Icelandic heritage
– and why you want to attend an INLNA convention
The letter must be received at the INLNA office on or before January 31st. Successful applicant(s) will be notified by end of February.
Posted in Culture, Events, Icelandic National League of North America, News.