Rey Saem's Art Show "Five" Opening Reception
September 14, 2017 @ 6:30 pm

-

9:00 pm
Event Navigation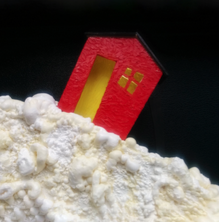 Iceland is a country of myth and story, of sharp contrasts of colour and light. All of this is reflected in the art of Rey Saem, a recent immigrant to the Bloor West Village area of Toronto, and partner of ICCT member and past-ICCT President, Gail Einarson-McCleery.
This architect turned painter´s first show is titled ´Five´, a reference to the age at which he decided to move to the moon, in order to escape the people he had begun to see in his home, who were ´gone´ (no longer in the land of the living). He built himself a ´kassabíla´(wooden car) for the journey, which he has now recreated as part of his show at Gallery 1313, which opens September 13.
His large canvases show his fascination with the moon and stars in whimsical fashion by making use of strong colour to blend canvas, foam and other elements. Other paintings include Iceland's waterfalls and elements of his new country featuring such subjects as Manitoba buffalo, and the films of Humphrey Bogart and David Lynch, and much more! Visit his website: http://reysaem.wixsite.com/five
Opening Reception: Thursday September 14th, 6.30 to 9 pm
Gallery 1313, at 1313 Queen St. W.
The gallery is open Wednesday through Sunday 1 to 6 pm Sept. 13 to 24.