Jazz Ensemble Úngút at The Musideum
May 29, 2012 @ 8:00 pm

-

10:00 pm

$15.00
Event Navigation
Hvelreki – "may a whole whale wash up your beach" ( Icelandic expression for good luck) "This is the sound of Iceland: cool and fresh, warm and lovely, beautiful and absolutely exciting. "úngút" is an Icelandic expression which means "to brood, to hatch (out); hence a new life".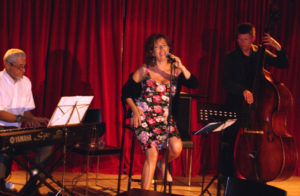 Ensemble úngút opens new musical doors with the traditions of Icelandic folk music. The archaic and powerful sound of the music seems to be directly inspired by the eruptive Icelandic landscape.
Rosa Baldursdóttir, well known Icelandic singer, studied in Iceland, London and Salzburg she is
also a successful solo artist for Icelandic folkmusic, musicals and classical repertoire.
1990 she founded the quartet Tjarnarkvartettinn. This vocal quartett established a reputation for
unique interpretations of traditional Icelandic folk music performing in Iceland and the rest of
Europe, becoming a firm fixture on the Icelandic music scene as well as participating in many
major European festivals. She teaches voice at the University of Akureyri, as well as at the
Salzburg College, Pädagogische Hochschule, at Salzburger Domchor and the Jugendkantorei at
the Dom in Salzburg.
Pianist Peter Arnesen is known for being a founding member of "The Rubettes" and worked for
many years in London as a studio musician for Petula Clark, guitar legend Mick Ronson, Ian
Hunter and manyothers. Besides being an active composer and songwriter he teaches courses in
improvisation, jazz-improvisation and popular music at the University Mozarteum in Salzburg,
Austria. With Ensemble Úngút he now presents a sensitive yet thrilling approach to Icelandic
music, which he has transformed into exciting jazz pieces.
Einar Sigurdsson studied electric and acoustic bass and jazz theory in the FIH music school in
Iceland, as well as in Vienna. He has been a member of the Symphony Orchestra of Barcelona
in Spain and played for years in the Icelandic Symphony Orchestra and the orchestra of the
Icelandic Opera. He is a founding member of Spottar, which is an Icelandic folk band based in
Reykjavik. In addition, he works as a sound recordist for RUV the Icelandic Radio and Television
Broadcasting Company and has won several prizes worldwide for his work there
Peter Arnesen.
Our thanks to Birna Bjarnadottir, head of the University of Manitoba Department of Icelandic and
to Icelandair for bringing this talented ensemble to Canada.
www.musideum.com
www.ensemble-ungut.com
www.peter-arnesen.com