International Visits Program Presents Viðar Hreinsson
October 4, 2012 @ 7:30 pm

-

9:00 pm

$10.00
Event Navigation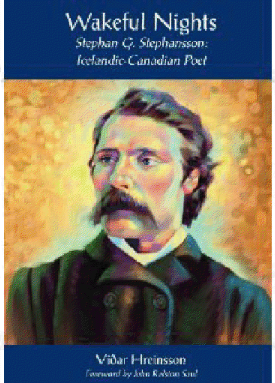 The ICCT is excited to be part of this year´s INL International Visits Program.
Viðar Hreinsson, an independent literary scholar, grew up on a farm in the North of Iceland.
A lecturer on various aspects of Icelandic literary and cultural history at universities in Iceland, Denmark, and Canada, he also acted as general editor of the acclaimed five-volume series The Complete Sagas of Icelanders, published in 1997. Viðar's two-volume biography of Icelandic-Canadian literary giant Stephan G. Stephansson was published in Icelandic in 2002 and 2003. Volume I was nominated for the Icelandic Literary Prize in 2002 and the completed work received the 2003 Award for Excellence in Scholarly Writing. An English, one-volume version of this biography is now available in English: Wakeful Nights.
Stephan G. Stephansson: Icelandic-Canadian Poet. It has already received good reviews in Lögberg Heimskringla and Kirkus Review.
An outspoken environmental and political activist and former Director of the Reykjavík Academy, Viðar Hreinsson has since written two biographies and worked on developing new and
critical approaches to Icelandic literary and cultural history. Viðar will present Stephan G. Stephansson's biography, discuss his immigrant experience, introduce his profound poetry and philosophy of life that is highly relevant today, and finally read a few of his poems in Icelandic.
PLEASE EMAIL contact@icct.info to reserve your attendance.