Snorri Plus 2011—A Major WOW!! By David Johnson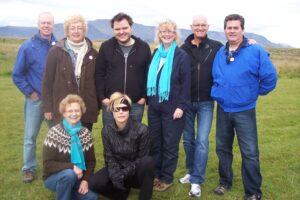 My expectations were already pretty high, but I can't begin to describe how amazing it was to experience Iceland through the Snorri Plus Program this past August.    I'm so thankful I signed up, and I encourage everyone to seriously consider signing up for the program next year.
For the past 13 years the Snorri Foundation has been running the Snorri Program.  Young people of Icelandic descent living in North America are given an opportunity to participate in a six week unforgettable adventure and discover their Icelandic roots.   My experience however was with the Snorri Plus Program, a condensed 2 week version for us older folks—those over 30 years of age.   And the Snorri Plus program isn't limited to those of actual Icelandic descent; anyone with a love or interest in Iceland is encouraged to sign-up.
I could recount so many highlights but space is limited here.  Let me however hit a few highlights to whet your appetite.   This year's group of 7 program participants included two from the US and 5 from Canada.   Although strangers on Day #1, we quickly became friends to be cherished for a lifetime.  And our Program Director Ásta Sól is as wonderful a person as you'll ever get a chance to meet!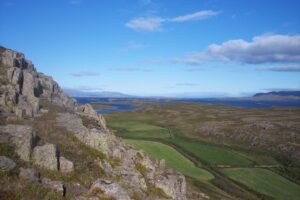 During our first week in Reykjavik we participated in tours and lectures you wouldn't otherwise get traveling on your own.  How often can you wake up and go to a lecture on the history of feminism in Iceland, geology, economics, linguistics, or family history research, and then run in the Reykjavik marathon or fun run?  Or how many times do you get to have a picnic lunch on Viðey Island with a private serenade from Svavar Knútur singing Icelandic songs on his acoustic guitar?   Or what about the opportunity to spend a ½ day with an Icelander who is in a similar line of work or is an expert in a hobby that you have?   Or who gets to spend an hour sitting and chatting with the President of Iceland at his official residence sipping coffee and eating cake served on the official state china when traveling on your own?
Being an avid family history researcher, I could easily roam on farm ruins where I know my family lived and worked, hike along sheep trails up to abandoned cemeteries where I know ancestors are buried, visit old churches or squirrel myself in the archives for days searching for old family records.   But this trip showed me that living in the present is so wonderful and rewarding too.
One the highlights for me was attending a reception that had been arranged for the seven of us where cousins of ours still living in Iceland were invited.   Getting hugs and sharing stories with cousins I never knew I had, and even being invited to join them in their homes during free time to share traditional foods, was so great.   Many of these cousins I continue to stay in contact with and hope to go back and visit or host here in Seattle someday.
During Week #2, we hit the road in our small bus.  That's when we really got to know each other!  We went on many beautiful hikes and saw many waterfalls.    Every day brought a new adventure, from horseback riding around Lake Mývatn to a boat cruise out of Stykkishólmar where the crew dredged the ocean floor and we were soon eating raw scallops and sipping wine while looking at rare birds and snow-capped mountain views from a blue ocean.   Attending the INL Conference and dining in Hofsós was also a marvellous day I'll always remember.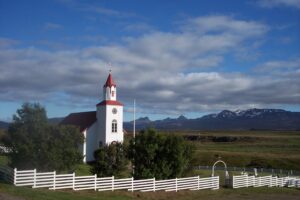 Stretching myself and setting aside fears that hold me back is something I'm trying to weave into my otherwise content lifestyle.   I encourage you to challenge yourself and experience your own "dream come true" by signing up for the Snorri Program.   Please contact me at HYPERLINK  if you'd like to talk about the program in more detail or find out about next summer's sessions.
Snorri Plus will run Thursday, August 16th to Thursday, August 30th and the application DEADLINE  is January 26, 2012
Snorri Program for youth (18 to 29) dates are Friday, June 10th to Friday, July 21st and the DEADLINE  is January 12, 2012
Website:  www.snorri.is