Þorrablót TorontoÞing 2017
April 8, 2017 @ 6:00 pm

-

10:00 pm
Event Navigation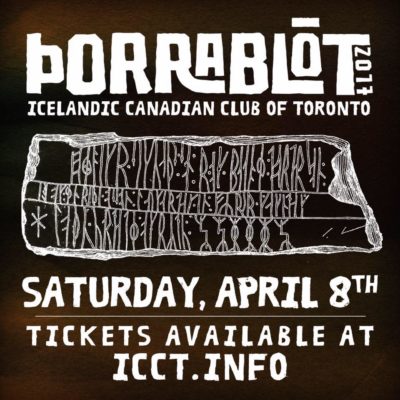 TorontoÞing – Þorrablót 2017 – Saturday, April 8th
THE LATVIAN CENTRE 4 Credit Union Drive. Toronto, Ontario. M4A2N8
Appetizers, Cash Bar 6:00 PM Dinner 7:30 PM Free Parking
Þorrablót 2017 will be a celebration of the lives and stories of western Icelanders today. Our community has come a long way! As Canada celebrates her 150th year, we focus on who and where we are now with an evening of feasting, sagas, songs and surprises!
SOME TICKETS ARE STILL AVAILABLE!
Members: $75, Children 10 & Under: $25 BUY MEMBER TICKETS NOW
Non-Members: $125, Children 10 & Under: $50 BUY NON-MEMBER TICKETS NOW
Check availability after Apr. 3
Adults: $150, Children $60 (both Members and non-members)
This year we enjoy the return to a buffet with banquet style seating. Our new venue has so much to offer! The 2017 Þorrablót will take place on Saturday, April 8 at the fabulous Latvian Centre.
To order tickets, see the order form included with this newsletter.
To renew for 2017 Member Ticket Prices or to become a member, visit our website www.icct.info
In 2017 we celebrate our vast community as we also toast to Canada's 150th year. We will take note of the historical importance of each district of Canada where Icelanders settled and how we made our journey across this great country of ours. We will trace these paths to all the Vestur-Íslendingar living here today.
The expression of the food matches who we are today and acknowledges the past. Chef Arden Jackson and her team are already working away to create another unforgettable feast.
We still need a few more volunteers. Contact Lindy: lindyvop@gmail.com