Thorrablot
April 13, 2013 @ 6:00 pm

-

11:00 pm

$55.00
Thorrablot 2013: Edible Sagas (Nom nom nom)
Saturday April 13, 2013
Estonian Club of Toronto
958 Broadview Avenue, Toronto.
Cash Bar @ 6.00 pm     Dinner @ 7.00 pm      Free parking!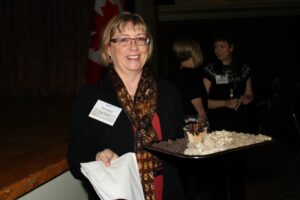 The fresh lamb will be roasted, ……the rullapylsa and hangikjöt will be hanging out in anticipation…… Members will be poised with pönnukokur, and the vinarterta will be veritably vertical…and while the idea of kleinur is thoughtfully twisting it's way into your heart…Icelanders will be preparing our hardfish, hákarl and flatkaka and …salmon still swimming will become our gravlax…! And who doesn't love Icelandic chocolate, liquorice and candy??
The Rams Balls and Heads are.……well………pickling and braising for the challenge….and children are yearning to play…..'Freya's Fling'……and our new 'Sheep Game' is bleatingly fun!
And most importantly…..the Þorri team is ready and preparing to serve the throngs!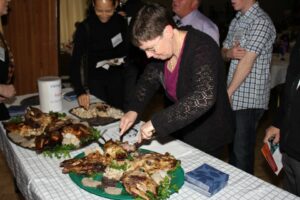 Support our Scholarship Programs and participate!
Silent Auction – includes two tickets to Iceland! (Uppboð)
Back by popular demand! Viking Challenges (Víkingaþrekraun)
Kolaport (Markaður)
Buy your tickets online! CLICK HERE 
or send payment to Lynne Thorkelsson, ICCT Treasurer,1680 Scugog St.Port Perry, ON L9L 1E2  treasurer@icct.info
More for you:

Icelandic and Icelandic Canadian Books, Music and Products for Sale
Business Connect Initiative – Bring your business cards!
Entertainment
Scholarship presentations
Games for the kids
Catch up with friends and family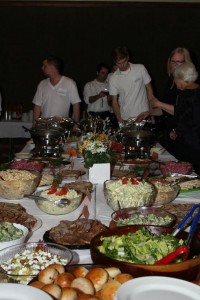 Our Thorri Buffet Features: Roast Lamb, Hangikjot (Smoked Lamb), Poached and Smoked Salmon, Smoked Trout, Rullapylsa (Rolled Spiced Lamb), Hardfish (Dried Fish), Turkey, Vegetarian Dishes, Potatoes, Turnip, Red Cabbage, Pasta and Green Salads.
Dessert:
Cream filled and rolled Ponnukokur, Vinarterta, Kleinur, Saetsupa, Skyr, Calla Lillies, Jelly Roll, Mysuostur, Cakes and Slices and Fruit. Óg já…..Viking Beer!
VOLUNTEERS!!!  Many hands make light work. Desserts are also greatly appreciated. thorrablot@icct.info
DONATIONS!!! Donations for our silent auction: silentauction@icct.info
PRICES
Early Bird Special – Before March 13, 2013 
ICCT Member, Adults: $45, Youth under 13 $20, Child under 6 $5
ICCT Non Member, Adults: $50, Youth under 13 $25, Child unde 6 $10

After March 13, 2013
ICCT Member Adult $50, Youth under 13 $25, Child under 6 $10
Non Member Adults: $55, Youth under 13 $27, Child under 6 $12

Don't wait, space is limited!