Nordic Film Night presents: Nói Albínói
Event Navigation
Nordic Film Night Series presents: Nói Albínói @ Ryerson Theatre
Icelandic with English subtitles.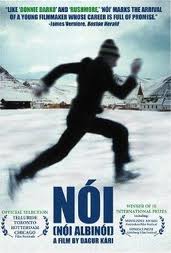 Is he the village idiot or a genius in disguise? 17 year old Noi drifts through life on a remote fjord in the north of Iceland. In winter, the fjord is cut off from the outside world, surrounded by ominous mountains and buried under a shroud of snow. Noi dreams of escaping from this white-walled prison with Iris, a city girl who works in a local gas staion. But his clumsy attempts at escape spiral out of control and end in complete failure. Only a natural disaster will shatter Noi's universe and offer him a window into a better world.
Noi the Albino is an Icelandic film by director Dagur Kári released in 2003. The film explores the life of teenage outsider Nói in a remote fishing village in western Iceland. It won multiple awards. 
Wikipedia
Release date: January 24, 2003 (initial release)
Director: Dagur Kári
Running time: 93 minutes
Screenplay: Dagur Kári
Budget: 1.1 million EUR
Cast: Tómas Lemarquis, Elín Hansdóttir,Kjartan Bjargmundsson,
Date: 
Tuesday, November 27, 2012
Doors open:
 @ 6:30, Movie @ 7 pm.
NEW location
: Ryerson RCC [Wheelchair-accessible external entrance] [Elevator] Rogers Communications Centre, 80 Gould Street (corner of Gould and Church). Here is the 
link to the map
.
Suggested donation:
 $5.00